An earthquake is the sudden rapid movement between two rigid blocks of the Earth. This movement occurs along a surface between the two blocks called a fault. This movement releases energy and generates seismic waves that can be recorded by specialized instruments used by scientists. The point on a fault at which the first movement or break occurs during an earthquake is called the earthquake's hypocenter (focus) (Figure 1). In the case of a large earthquake, a section of a fault that is many kilometers long may slip, but there is always a point at which the first movement occurred. This point is reported with a latitude, longitude and depth of the earthquake. The point on the earth's surface, projected directly above the hypocenter is called the epicenter. The epicenter is usually what is reported on the news and ONLY has the latitude and longitude of the event.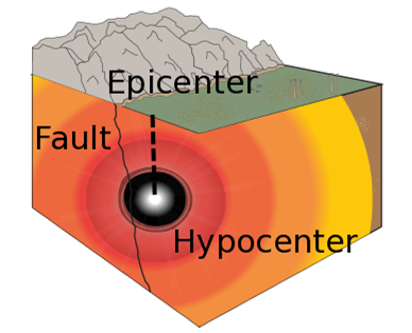 Figure 1. Earthquake hypocenter (focus) and epicenter.
Most commonly, earthquakes are directly or indirectly caused by movements of tectonic plates. Tectonic plates are moved by convection currents which are generated in Earth's mantle. The Earth's mantle is a solid that flows over long time periods in a manner similar to the famous pitch drop experiment that has been running at the University of Queensland since 1972 (Video 1). In the Earth's mantle, the convection currents are generated by changes in temperature and density. The warmer materials in the lower part of the mantle ascend, and the colder ones descend, generating constant changes by the circulation of materials (Figure 2).

Figure 2. View of the Earth's different layers and convection currents that transform the Earth's crust